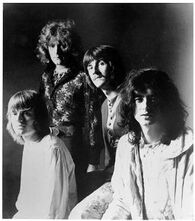 The members of Led Zeppelin all came from England, being an English band of course. Ater establishing a set of members, who all had grown to become great friends and family, they rocked the world. After the horrible loss of one member, the band slowly began to break apart as they tried to replace the drummer.
Robert Plant (Vocalist)
Jimmy Page (Guitarist)
John Paul Jones (Bassist)
John Bonham (Former Drummer - R.I.P. 1948 - 1980)
Phil Collins (Drummer, Live Aid 1985)
Jason Bonham (Atlantic 40th Anniversary 1988, Celebration Day 2007 and Shepperton Rehearsal 2007)
Community content is available under
CC-BY-SA
unless otherwise noted.